In the lobby of the Charles Mantra Hotel, senator Helen Polley's media advisor returns from the front counter with two coffees and the change from a $20 note: $9.50 in coins.
Senator Polley notes the price. "It costs just under $10 to have two cups of coffee," she says. "What I'm saying is, these people are really trying."
The amount she's handed over for the one soy and one skinny latte we'll sip on during our interview is one quarter of the daily budget available to a person on Newstart.
Two coffees are not the sort of expense Senator Polley blinks at now. With her bright red lipstick and leopard print designer blouse, weighed down by jewellery winking from her wrists, neck and ears, the Labor politician gives off more a suggestion of glamour than of struggle.
But in her 20s, she says, there were weeks she was unable to come up with enough money to buy an ice cream.
"We were never on Newstart," she says, "we were on the Disability Support Pension, through the circumstances of my husband."
"We had our two – well, in the beginning there was just one little girl, and then we had our second little girl. That lived experience of living on a very meagre amount of money over a long period of time – that has never left me. We never referred to ourselves as living, during that period, we were surviving."
When she was 21, Senator Polley's husband was in a car accident that left him unable to work. The pair were living in Melbourne raising a young family, with Senator Polley working odd jobs – like selling Tupperware, waitressing in a roadside cafe, and restocking Hallmark cards – to contribute to the family income.
They got by, she says, but barely, and with the guilt of two parents who couldn't afford to take their children to the cinema, or on holidays to sunny Queensland.
"I was talking about it with my husband the other night," she said. "He reminded me, he said, 'remember how we used to let ourselves have a treat?' A treat for us, in those days, was a Choc Wedge.
"That's obviously something that had imprinted on his mind. He said, 'remember the times when we couldn't scrape together enough money for a Choc Wedge'."
In a given year, 5.1 million Australians receive an income support payment from the government. The most common benefits are the aged pension and the veteran affairs pension, followed by disability support, Newstart, the parenting payment, the carers payment, and youth allowance.
The overlap between those 5.1 million people yearly and our federal politicians is not known with any degree of certainty – it's not the sort of thing parliamentarians are required to divulge.
But one is still inclined to suspect that the overlap is not very large. A 2013 Australian Parliament House 'traits and trends' research paper notes the pre-political careers of parliamentarians: most were executives, managers, self-employed businesspeople, and company directors; followed by political consultants, advisers and lobbyists; followed by the legal profession.
"The rise of a professional political class and the apparent shrinking gene pool in parliament, where members of Parliament often have 'more in common with each other than with many of their constituents' [has been documented]," the report said.
But Tasmania appears to be an exception.
When it comes to welfare, the experiences of our politicians overlaps that of the general population: it's been a lived experience of roughly a quarter.
Out of today's crop of 17 Tasmanian federal representatives, at least four have spoken openly about their lived experiences with government benefits. For one, independent senator Jacqui Lambie, her entire political career was built on fighting for a benefit, from the Department of Veteran Affairs.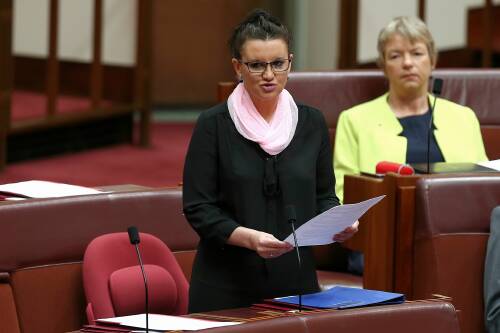 In 2017, Crikey asked every MP and senator in federal parliament if they had ever personally interacted with Centrelink. Of the 227 politicians, they received just nine "yes" responses. Two were Tasmanian (Labor MHRs Brian Mitchell and Justine Keay).
Liberal Bass MHR Bridget Archer entered national politics after that informal survey was taken.
But she joins her Tasmanian colleagues in drawing from a range of life experience – from being so financially insecure she feared she would fall into homelessness, to years scraping by as a single mother on the sole parent payment, to marrying into the well-known Archer family about 10 years ago – in her policy-making.
The former George Town mayor said she feels a great sense of personal pride thinking of how far she's come – from a painfully insecure child that, she says, would cry when other children spoke to her, to a federal Member of Parliament.
Archer's father died when she was eight. Her mother moved her to Ravenswood where she went to Ravenswood Primary School.
But, because her father set aside money specifically for her education in his will, she had the unique experience of being perhaps the only child who lived in Ravenswood – one of the most socioeconomically disadvantaged neighbourhoods in Australia – who attended prestigious private school Launceston Church Grammar.
After school she enrolled at university, before she withdrew from her course and depended on the unemployment payment until she found a job, at the Herbarium – before eventually going back to achieve a degree.
She moved to Sydney at age 25 shortly before the 2000 Olympics; when the city was flushed with excitement, optimism – and jobs. But a sudden back injury while she was working in hospitality – occurring when she reached upwards to close a high window – cut the happiness of that period short.
"I wasn't on income support at that time – but I probably should have been," she laughs.
"It was pretty tough … I had six weeks in hospital, with a life-threatening post-op infection. If it wasn't for my friends at the time I would have been in a much more difficult situation; coming out of hospital after six weeks with no income, after I'd been very unwell. It was when I got out of hospital that I realised, 'things are pretty grim now'. I was very vulnerable.
"It showed me that that risk of homelessness can happen to anyone at any time, and really quite quickly. It can be illness, family breakdown, violence, whatever, but you can really find yourself very vulnerable."
Does she think she would have gone into politics, if not for those experiences – of financial insecurity, relying on government benefits, ill health and near-homelessness?
"No," she says.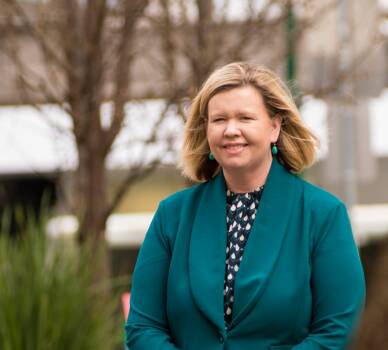 "No, I don't. It surprises me still – I'm still pinching myself to a degree, to be here. For a long time I never saw myself as a community leader. But it just comes from my own experience, and wanting to make things better – and I think there would be very few people in public life who aren't motivated by wanting to make things better. And often I find that's from their own experiences."
For Senator Polley, her decade or so as a battler has had a direct role to play in her politics – particularly when it comes to Newstart.
"I'm a senator," she says. "I earn good money now, I do."
"For someone who has always earned good money, I can see how it's hard for them to imagine what it would be like to find accommodation on $40 a day.
"Try eating healthy. Try getting your hair cut. Try buying new clothes. Try paying for rego, or petrol. Or a bus ticket. Those memories have always remained with me, and it's been a good life lesson.
"As a politician – I think it's helpful to have struggled, to have had that lived experience. When people come and talk to me … you know, I have flashbacks. I don't understand, if you've had this lived experience, how it doesn't motivate you to want to see change."