Read the full story with interactive elements on The Examiner website
A Legislative Council Inquiry into the future of the disused North-East Rail Corridor is due to put forward its recommendations any day now.
But no matter what its recommendations are, there is certain to be pushback. The two warring factions within the North-Eastern community – those that wants bicycles, and those that want a heritage train – are both passionately committed to their side.
The proposal for a rail trail between Launceston and Scottsdale was first put forward by the Dorset Council in 2014. Since then, there have been at least six separate reports from commissioned private consultants, a federal funding announcement, new state legislation, a halt in the spending of federal funding, intervention from the state government, lobbying from the City of Launceston Council, and now, the Legislative Council inquiry.
This has come at a cost to the public purse so far of $50,000 for a Department of Treasury report, at least $20,000 for the Legislative Council Inquiry including a $7000 fact-finding trip, and the day-to-day activities of public servants in four levels of government.
What's the issue?
If you've taken even the most cursory interest in the events of the North-East over the past five years, you can't have avoided the lively debate over the disused North-East rail corridor.
Some people want a bike path. Some people want a heritage rail line. And this disagreement – on what would be the most pleasant way to absorb the pretty scenery between Launceston and Scottsdale in a leisurely fashion – has turned into one of the most vitriolically debated issues in the state.
Basically, there is a disused rail corridor running for 64 kilometres from Coldwater Creek – about 10 minutes' drive from the Launceston CBD – to Scottsdale. It connects to a separately owned and managed operational rail line that runs into the heart of Launceston. And there are a range of options for what to do with it.
It's worth remembering that whatever the outcome – unless it stalls completely – the North-East will get its hands on an exciting new tourism project. And whether that be a train, a cycle path, or some combination of the two, any injection of people and money into the region is something to be celebrated.
Why are people so angry?
It is true that many of the rail advocates have a personal stake in this issue.
For many of them, their advocacy for a heritage train grew out of the fact that the disused rail corridor runs through their farmland. They don't have a legal say in what the corridor is used for, because even though it may run through private property, the corridor belongs to the state government. If the government decides that a Tasmanian Tour de France should wheel its way through Lilydale pastures, there's not much the owners of those pastures can do about it – except cause a ruckus. So that's exactly what they've done.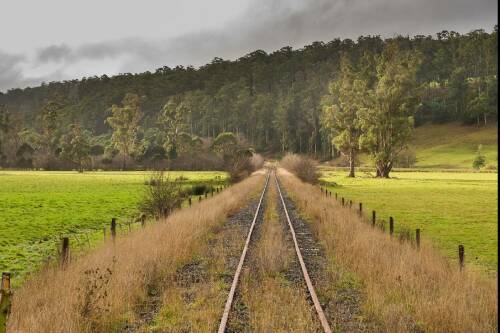 Here's Northern Tourism Tasmania chief executive Chris Griffin: "What has been most disheartening across the last two years particularly is the oftentimes hate-filled and venomous way in which proponents for the railway have communicated their cause."
"The community deserves better than to be held to ransom by this issue … it has soaked up a hugely disproportional amount of time and energy," he said, in his submission to the Legislative Council inquiry.
The pro-rail groups, for their part, have argued that it is the actions of the pro-cycle trail groups that have created a community that is divided and angry. The farmers are furious that a public bike path could run through their land without their consultation, and have said they will pursue legal action if the cycle track goes ahead.
The bike people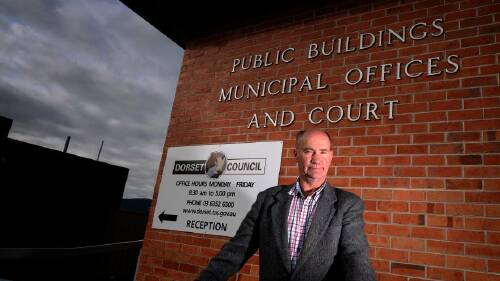 The (majority of) the Dorset Council, along with the Launceston and Scottsdale Rotary Clubs, want a cycle path from Lilydale to Scottsdale.
The 'rail trail' would capitalise on the North-East's post-Derby reputation: as a tourist destination for people who love bikes.
The Dorset Council has already been promised about $1.5 million in federal funding for the cycle path. But that has been put on hold, since 2015, while the train-bikes stoush is sorted out.
One of the main points of opposition raised to this plan is that it would involve ripping up the existing rail line. In areas famed for their successful rail trails – Victoria and New Zealand – there has never been a case of infrastructure being actively removed to be replaced with a cycle path. Why can't a cycle path be put down somewhere in the North-East where there isn't already cycle infrastructure, say those opposed to the trail.
A report from tourism consulting company TRC concluded that once fully operational, after five years, 22,800 visitors would be expected to use the Lilydale-Scottsdale cycle path with 33,500 hitting the track annually within fifteen years: injecting $6.8 million into the economy and sustaining 40 full-time equivalent jobs.
The train people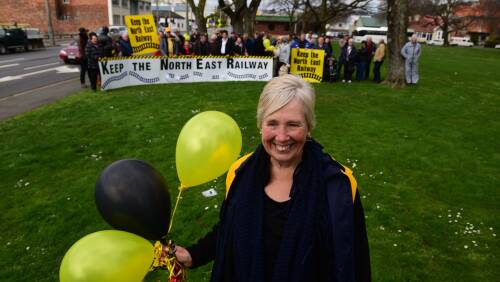 On the other side, you have volunteer organisation Launceston and North East Rail, who want a heritage train.
The L&NER are already in the process of restoring a rail car, that would be occupied by tourists for their project. They say they have $2.5 million in private written pledges to upgrade the railway and establish tourist rail operations, and argue that rail tourism in Tasmania has increased at a greater rate than bicycle tourism. A train option would diversify the North-East's bike-heavy tourism marketing, they say, and makes more sense as a tourism project in a region with an ageing population.
Their projections put the rail car carrying over 11, 000 passengers in its first year, and say that by year five direct expenditure at the railway could be $1.52 million, creating a direct economic impact of $9.8 million.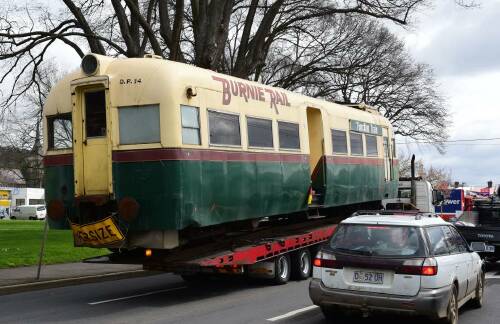 Concerns have been raised from a variety of stakeholders as to how realistic an up to 64-kilometre heritage rail line, to be built and maintained by volunteers, would be in the long term.
Chris Griffin has also expressed the view that an eight-hour, slow-moving return train trip (from Launceston to Scottsdale) would not be appealing to the majority of tourists. He similarly doubted whether a four-hour trip, one night in Scottsdale without another form of transportation, and a four-hour trip back, would be especially popular with visitors.
The compromises
The state government and the City of Launceston have both put forward proposals that would incorporate both a cycle path and a heritage rail line. The key difference lies in who would get the prime piece of corridor between Lilydale and Wyena. This exceptionally pretty stretch or line incorporates Lilydale Falls, an historic railway tunnel called The Tunnel, and Denison Gorge, as well as the township of Lebrina.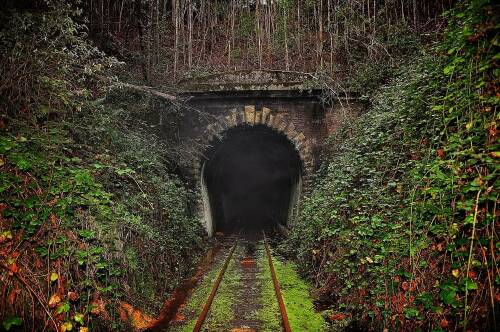 READ MORE: Historic railway tunnel at Tunnel
In July 2018, the state government offered an olive branch to the two feuding parties. The rail line would be ripped out from Scottsdale to Lilydale and replaced with a cycle path, creating a 42-kilometre journey from Scottsdale to Lilydale, that could could connect to an existing rail trail that extends to Billycock Hill, in the rural North-East.
In the state government's proposal, a tourist train would also run: from Turners Marsh, about 20 minutes drive outside of Launceston (where there is room for a carpark and a train museum), to Lilydale. It would have the potential to be extended to Coldwater Creek, making a 21.5 kilometre train journey. It could then potentially connect to a seperate 52 kilometre operational train line, in a totally different direction to Bell Bay.
But, in keeping with the tone of the issue up to that point, the proposal was met with opposition.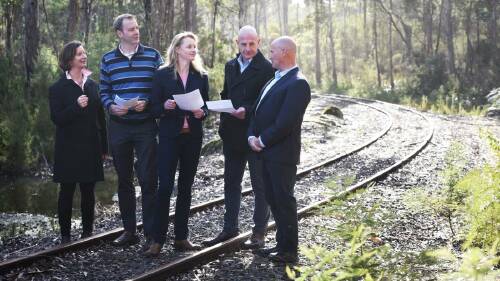 Then, in September 2018, the City of Launceston wrote to the Dorset Council suggesting they accept an alternate proposal. Their plan would give the heritage rail group the section of the rail corridor all the way from Turners Marsh to Wyena. (Wyena is the end point of their municipal boundary, before the rail line crosses into Dorset Council territory.) For their part, Dorset Council mayor Greg Howard said the council has no intention of accepting this proposal.
Robert Ravens, owner of enormously successful lavender farm Bridestowe Estate, is a strong supporter of the train project. He has advocated for the rail line to extend as close as possible to Bridestowe. With him on board, the heritage and tourist train could run to Wyena – or potentially even further to Nabowla – where everybody could get off and catch a short bus to the estate. With visitor accommodation units about to be built at the farm, people could potentially stay the night, frolic in the fields and gorge on lavender ice cream, and go back the next day.
READ MORE: Bridestowe luxury accommodation development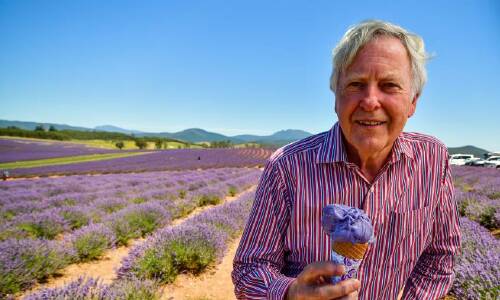 What happens next?
So, the Legislative Council Inquiry has to determine what would be the fairest and most sensible outcome for the future of the rail line. A tourist train that runs from Turners Marsh to Wyena? A cycle path that runs from Scottsdale to Lilydale? Some totally new option that no one has even thought of yet?
The inquiry first called for submissions in October 2018. Since then it has held five days of public hearings over a period of four months. Its members have viewed successful volunteer-run heritage rail lines in Victoria and New Zealand, heard of small communities transformed by cyclists emptying their wallets along rail trails, and inspected the state of the disused North-East corridor with an engineer in tow.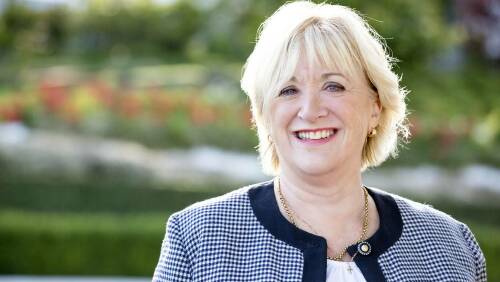 The next step is for their findings to be made public.
But even when that happens, the debate will still continue: the state government in the lower house and the two relevant municipalities – Dorset and the City of Launceston – are under no obligation to act on their recommendations.
The debate could conceivably stretch on for another five years – but who's counting.