A Launceston couple has been raising three children in tents after being evicted from a public housing property.
Leah and Jonathan "Budgie" Williams; Leah's three boys, aged 10, 12 and 13; and their two staffy dogs – plus six puppies – have settled into a relative normality over the past nine weeks.
They have set up a temporary home on private land at Mt Pleasant, next to a burned-out heritage gatehouse.
Ms Williams said she was evicted by Housing Tasmania due to damage to the house, which an independent quote put at $1500 to repair.
The damage was for a broken window, a door off its runner, and a hole in the wall, she said.
After her eviction, she has been hit with an over $10,000 debt to Housing Tasmania.
Ms Williams is disputing the debt via the Tenant's Union – at the same time as she is trying to find work, find housing, and care for three children while living in a tent.
RELATED STORIES:
"I would have been happy to pay [the $1500 independently quoted] to be able to stay – but they didn't give us the time to do it," she said. "You can't just come up with that kind of money."
"They sent an eviction notice and it all went downhill from there, and they ended up giving us 48 hours to be out. And we've lost half our furniture out of it."
Ms Williams said she believes the eviction was also related to her missing appointments, due to mental ill-health.
"I was a bit depressed last year; I struggled with appointments, struggled to go … anxiety got the better of me," she said.
"Once I explained it to [Housing Tasmania] – Budgie came in and helped me explain it – they were alright, but they still wouldn't give me the extra time to fix stuff."
Ms Williams signed a consent form permitting Housing Tasmania to discuss her case in The Examiner, but the body declined to address her specific claims.
"Eviction from a Housing Tasmania property is typically due to serious and ongoing anti-social behaviour, refusal to allow us access to the property, destruction of property, failure to pay rent, or a combination of these reasons," a departmental spokesperson said.
"Tenants are billed for damage to property or failure to pay the affordable rental they are charged as tenants."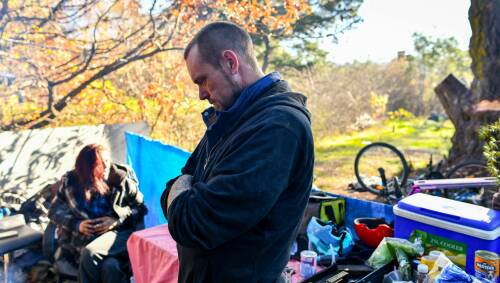 Since the eviction the Williams' have been without housing for about four months, and have come to Mt Pleasant after being moved on from two different locations on public land.
The first night, they slept on the front lawn of their former home.
Now, they have been mostly left to themselves, with an informal understanding between themselves and the property's mainland-based owner.
Their time there has not been incident-free. Mr Williams said he has been charged with assault since they settled in, which he said occurred after some people left rubbish at their temporary home.
But Human Services is aware of the situation and do not consider the children to be at risk, Ms Williams said.
"I don't want my kids here," Ms Williams said, her voice breaking. "It's not a choice. But they'd rather be here with us."
"The first couple of weeks were the roughest [on the boys]. To call it homeless, that scares them. If we say we're camping, it's a bit different."
At the camp there is a tent for the adults and a tent for the children, and a third, skinny one makes for a bathroom. They have thermal-insulated sleeping bags and down doonas which provide enough heat for them to be comfortable at night. Plus, each of the tents comes with a sleeping dog for extra warmth.
"It's just when you have to get out of bed in the morning [in the cold] and get motivated – but that happens in a house though, doesn't it," Mr Williams laughed.
Budgie and Leah have been together for five years, and are raising the children along with the boys' biological father.
"He was showing off with the chainsaw," Ms Williams teased, about the day she met Budgie. "He was a bit fitter back then."
"I was a bit younger back then my dear, that's why," he said.
There are boys' bikes at the camp; chairs set up around the fire, and a table laden with an esky, condiments, and non-perishable food.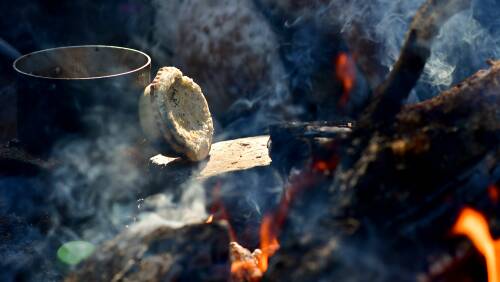 Ms Williams is proud of her developing cooking skills on an open fire. So far, she has managed butterscotch dumplings and apple cakes, and she's planning on trying a roast in the hot coals.
Wood is dropped off regularly by a complete stranger who noticed their camp by the road – an act the couple said has restored their faith in humanity.
They have even had the boys' friends sleep over in the tents. And their interests are developing like normal. Her youngest wants to be a zoologist, and is waiting to be reunited with his reptile tanks – stored with their other belongings with friends and family.
The middle child can "pull a motorbike apart and put it back together faster than a mechanic", and Ms Williams recounts how he built a quad bike in the lounge room on his ninth birthday. The eldest is the straight-A student; devastated if he gets a B.
"I'm a very proud mum," she said.
"It's been emotional a few times. The longer it goes on, the more draining it is on us.
"I'm a sooky mess and cry half the time … you feel like you're failing, when you can't support them.
"When you can't put a roof over their heads."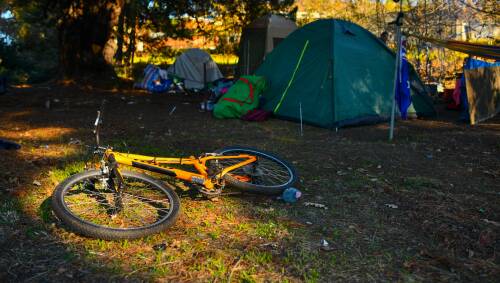 Their living situation has thrown up its own, unique, barriers.
For one thing, they can't leave their camp unattended. Doing so once has already cost them a source of income. Mr Williams was doing some landscaping and woodchopping work, but his chainsaw was stolen from inside their tent about two months ago – along with all of the children's brand-new school things.
It is difficult for them to make a good impression on employers or real estate agents when they don't have immediate access to running water for a shower. The woodfire they use for heat and cooking also leaves a deeply embedded smell of smoke in all of their clothes. And Ms Williams had to sell her car, so working out transport to and from anywhere outside of Prospect is its own headache.
"We run around like headless chooks just to try and get to an appointment," she said.
"But we're managing."
The Williams family are five of more than 1,600 homeless people in Tasmania.
If you think you can offer assistance to the Williams family, email frances.vinall@fairfaxmedia.com.au